Regular price
$249.95 USD
Regular price
Sale price
$249.95 USD
Unit price
per
Sale
Sold out
In his first video tutorial, renowned glass artist Craig Mitchell Smith will share the making of his famous classic poppies over 2+ hours. His poppies are displayed at Disney's Epcot Center, in homes and gardens across the nation, and his work was recently the feature exhibition throughout the nationally-awarded Dow Gardens.
Craig shares all his tips, tricks, and techniques for creating this classic flower. This includes Craig's templates and free form style of cutting and construction, and adding flair and style to each blossom created. You will learn radically unique slumping techniques, using surprising materials to make their poppies come alive, and will learn the nuanced details of presenting their poppies for wall mounted interior presentation, table top interior presentation, or stemmed for an exterior garden installation.
BECAUSE THIS TUTORIAL INCLUDES DOWNLOADABLE AND PRINTABLE PDF MATERIALS, IT IS STRONGLY RECOMMENDED TO USE A PRINT CAPABLE PC OR LAPTOP TO ACCESS THE CONTENT, RATHER THAN A TABLET OR PHONE.
ABOUT THE ARTIST
As a self-taught artist, my curiosity and creativity have taken me in many directions over the years. I am a painter; I have done interior and garden design throughout the U.S., set design for local theaters and floral design. I have also designed weddings throughout the U.S. and in England. In late 2005, I found glass. I started with making glass jewelry, but soon felt limited by the size and dimension. I moved quickly to glass sculpture because I liked the freedom of expression and scale. For me, the transparency of glass is a metaphor for memory. Even though the glass sculpture or design stays the same, if you move around the piece, or change the direction of the light or its intensity, you can change the memory. My designs often include the interplay of glass, light and water and range from garden sculptures to sculptural drawings, to portraits in glass, to wall hangings.
Share
View full details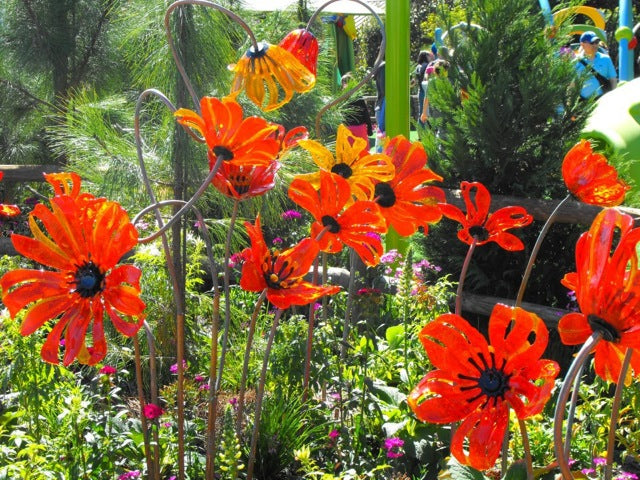 Wonderful experience!
What a wonderful teaching video. Craig Mitchell Smith is a great teacher and I hope that he will continue to produce more of these videos.
Great Video Course
I love the detailed instructions that really makes the Poppies come out great. The extra information on how to display these great flowers was an unexpected surprise. This was a well worth it purchase and can't wait for more from Craig.
So glad I purchased it!
The fused glass poppies on line video I purchased is awesome! Craig is very practical, concise and explains the procedure very well. I have already made my first poppy and am looking forward to making many others. The video was well edited and Warren helped when I couldn't find the link to the handouts.
Fused glass poppies
This video seemed very informative. I've yet to have time to try these techniques but will be after the holidays.
Beautiful poppies
I haven't made this yet but am excited to do so. I don't have a drill press so I will need to find a friend who has one or buy my own. Craig shows three ways to mount them. My world may become a garden! I had trouble downloading the video but Warren at Milkweed Arts helped me through it. Thank you Warren.